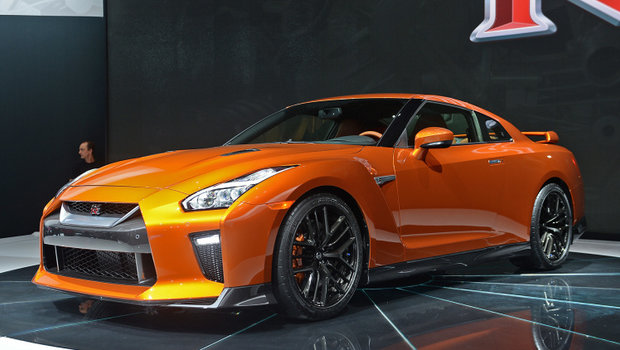 Gord Scott Nissan
Much to everyone's delight and excitement, the 2017 Nissan GT-R made its triumphant return and was unveiled at the 2016 New York Auto Show.
The Japanese automaker's answer to the modern day supercar is every bit as powerful -- in terms of both look and performance -- as the previous generation, with a few tricks up its muscular sleeves.
Godzilla is Back, and Better Than Ever
While Nissan kept the same oh-so-cool hand-built 3.8L V6 twin-turbocharged engine beneath the GT-R's aggressive, muscle-bound hood; engineers managed to squeeze 20 more ponies out of the mill. That means, power output now sits at 565 with 467 lb-ft of torque. Godzilla, indeed.
All that power will definitely get you going, but it's often about more than just a rush of speed and performance that causes us to fall head over heels in love with these cars. The soundtrack to the performance is just as important. And so, Nissan equipped the 2017 GT-R with an all-new titanium exhaust along with Active Sound Enhancement, so your GT-R will sound absolutely phenomenal.
Harnessing in all that power is a 6-speed dual-clutch transmission. The 2017 Nissan GT-R features AWD like the outgoing model, and thanks to re-engineered mapping and tweaking, the 6-speed offers up much smoother shifts in this latest iteration.
But speed and cutting perfect apexes aren't all the GT-R is about. In fact, this latest model features an acoustic glass windshield for a quieter time on the road, as well as updated suspension to ensure that all on board stay comfy. Time to take that long road trip you've always wanted in your brand new 2017 Nissan GT-R.
A few interior tweaks were made, such as a brand new 8" infotainment screen, as well as a change in position of the paddle shifters, which have moved from the column to the steering wheel. There's also available Nappa leather lining for the dash.
If Looks Could Kill...
No major changes were made to the exterior look of the 2017 Nissan GT-R, which is more than OK as the car was already muscular and intimidating to look at. However, a few very subtle changes were made to enhance the vehicle's masculine stance on the road: a new lip spoiler and bumper, along with wider side sills to improve airflow. There's also the new V-Motion front grille in keeping with the rest of the Nissan family lineup. And Nissan even added a brand new colour to the GT-R palette: Blaze Metallix Orange.
To find out more about the brand new 2017 Nissan GT-R, contact us at your local Gord Scott Nissan dealer today to speak to one of our experts about everything this super-car has to offer, and more. You won't want to forget to book a test drive, either.