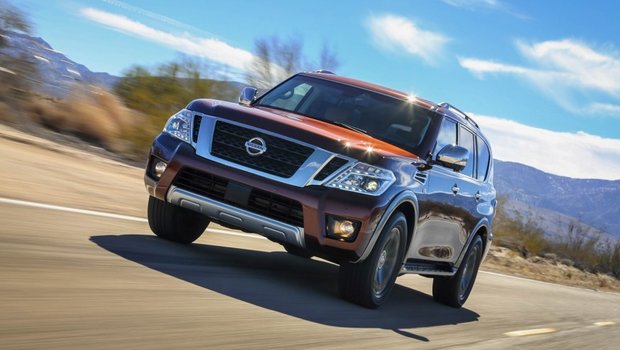 Gord Scott Nissan
For this second generation Armada, Nissan didn't just revamp the SUV's curb appeal, they took to updating the interior as well.
This all-new style has given the Armada a new lease on life, as well. Ruggedly refined, the 2017 Nissan Armada is everything you've ever wanted in a large SUV, and more.
Ruggedly Refined and Ready for the Road
While the previous generation was based on the Nissan Titan's platform, this latest generation borrows from Infiniti's QX80. While you definitely won't notice the similar underpinnings, you'll definitely notice a similarity in exterior looks.
The family resemblance between the 2017 Nissan Armada and the Infiniti QX80 is immediately noticeable. Although, Nissan design engineers were sure to outfit the 2017 Armada with the Japanese automaker's signature chrome-lined front grille that's instantly recognizable and falls perfectly with the rest of the family lineup. And if you thought the previous generation was slightly boxy, then you will not be disappointed with this redesign that's much sleeker and smoother. The Optional all-new 20" wheels, as well as LED headlights, ensure the 2017 Nissan Armada has both a sporty and sophisticated air while driving on the road.
Step inside the 2017 Nissan Armada, and the similarities with the QX80 are immediately recognizable. The use of wood-tone and brushed chrome give the Armada a feeling of upper-class sophistication not found in the more rugged design of the previous generation. Seating for up to 8 is available, along with a huge amount of cargo space. All of this combined means the 2017 Nissan Armada is set to be the ultimate everyday and weekend ride for families both small and large.
More Power than You'll Know What to Do With
The 2017 Nissan Armada is equipped with a 5.6L V8 that produces 390 horsepower and 401 lb-ft of torque. The Armada also has a towing capacity of 8,500lbs. That means you really can adventure when you get behind the wheel. The Armada also offers an all-mode 4WD system that automatically switches to 4WD when the system detects slippage, and will then switch back to 2WD for optimal fuel efficiency.
Equally impressive is the level of safety the 2017 Nissan Armada boasts. With features such as Backup Collision Prevention, Intelligent Cruise Control, front and rear parking sonar, Around View Monitor with Moving Object Detection, and Blind Spot Warning and Blind Spot Intervention, the 2017 Nissan Armada is the safest Armada to date.
To find out more about the all-new 2017 Nissan Armada, head down to your local Gord Scott Nissan dealer today to speak to one of our experts. Make sure you remember to book a test drive for when this high-end SUV finally makes an appearance in showrooms.