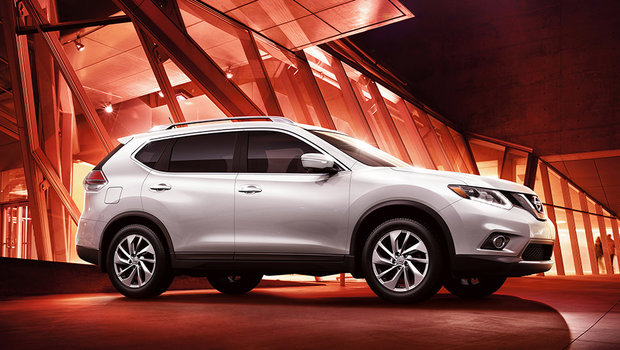 Gord Scott Nissan
In all, the 2016 Nissan Rogue is a highly capable, good looking, and fun to drive CUV that's sure to impress even the most discerning buyer.
There's so much to love about the 2016 Nissan Rogue, it's difficult to know where to start. From the smart, sporty exterior design to the completely overhauled interior, to the available AWD and fuel-efficient CVT, the 2016 Rogue has so much to offer, and for just the right price.
Reay to Take Control on the Road
For starters, the Rogue was redesigned for the 2014 model year, and since then the exterior look has been turning heads across the nation. Featuring Nissan's brand new "V-Motion" design language, the Rogue makes a striking mark on the automotive world, and for all the right reasons. Sleek, sophisticated and modern, the 2016 Rogue checks all the appropriate boxes in terms of attractiveness on the road, and features modern equipment like available LED headlights.
Inside, that modern fit and flare continues. Featuring Nissan's EZ Flex seating system, the Rogue offers up comfortable seating as well as versatile cargo options. Blissfully, the Rogue features Zero Gravity and Quick Comfort heated front seats that are so good you'll wish you could bring them into your living room for optimal TV-watching seating. The back seat even offers slide and recline options for rear seat occupants. Quality materials give the 2016 Nissan Rogue an upscale look and feel that seems well above its price point.
All the Technology you Can Hope For in a Vehicle
Then there's the technology: The 2016 Nissan Rogue offers available NissanConnect that features handsfree capability with your smartphone with Siri Eyes Free. There's also a host of safety features such as front braking collision mitigation, around-view birds-eye cameras, blind spot monitoring, and even moving object detection (perfect for tight parking spaces).
The driving force behind the 2016 Nissan Rogue is a 2.5L 4-cylinder engine that produces 170 horsepower and 175 lb-ft of torque. A CVT transmission is paired to the powerplant, and power can be sent to either the front or all wheels. All-weather capabilities is one of the 2016 Rogue's main selling point, and a higher ride height paired with an AWD system that continuously monitors the situation and can adjust which wheel is sent power 30 times more quickly than you can blink our eye. Now that's efficient, and safe.
Speaking of efficient; the 2016 Nissan Rogue is definitely that, as well. With a combined fuel rating of 7.1L/100km (according to Nissan), the Rogue is plenty fun to drive and capable, but it won't empty your wallet at the pumps. Just more boxes to check on the positive side.
Exclusive to Canada is a 2016 Nissan Rogue SV Special Edition model that features 17" wheels, push-button start, heated front seats, fog lights, rear privacy glass, and a retractable cargo cover to mention a few things, and all for an extremely affordable price. Oh, Canada, indeed.
In all, the 2016 Nissan Rogue is a highly capable, good looking, and fun to drive CUV that's sure to impress even the most discerning buyer. Loaded with available amenities and features, the Rogue is a looker and a doer.
To find out more about the latest 2016 Nissan Rogue, head down to Gord Scott Nissan to speak to one of our experts, and don't forget to book a test drive, too.