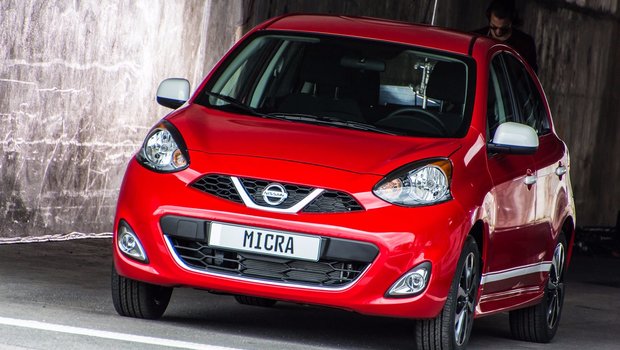 Gord Scott Nissan
There really is so much to adore about this hot little hatch, not just its low price.
The little micromini engineered for Canadians by Canadians is back for another year of segment domination, despite its diminutive size. Still not available in the USA, the Nissan Micra is proudly Canadian and offers so much in a very compact package.
The Best Does Come in the Smallest Package
It's hard to believe it, but Nissan packed the Micra full of driveability, features, and amenities, however, the best thing about this hot little hatch is most definitely its price tag. With a sticker that reads $9,998 (base), the Micra is instantly attractive and bank-account-friendly. There's no denying that the small-car segment is a hotly contested one, yet the Nissan Micra stormed in with its quirky looks, fun drive, and fantastic starting price.
There really is so much to adore about this hot little hatch, not just its low price.
There's been plenty of speculation about what the 2016 Nissan Micra model will look like and feature. No one's entirely sure what's true or not at the moment, however, when Nissan revealed the Sway Concept, media all over the globe were sure this was a first glimpse at the next Micra. Nissan's not confirmed (or denied) such rumours as of yet. What we are sure of though is that no matter what, the new 2016 Micra is sure to be just as cool, enjoyable and practical as the outgoing model.
At the moment we can assume it will contain many (if not all) of the same features, and equipment as the 2015 model.
Plenty of Options to Choose
So, what comes in the current generation model with it's low, low starting price of just $9,998? Well, the Nissan Micra S (the base model) is actually quite bare when it comes to any extras; however, if that's all you're in need of then it's absolutely brilliant and the perfect option. Equipped with crank windows, no A/C, and a key to unlock the doors (all of them, including the hatch for the trunk) and to start the ignition, the base Nissan Micra is simplicity personified. And it also comes equipped with a fantastic 5-speed manual transmission. And Nissan promises this little number has some serious attitude on the road.
Currently, there are four Nissan Micra models to choose from. With all of them, you'll find the same engine: a 1.6L 4-cylinder that produces 109 horsepower and 107 lb-ft of torque. While the manual is the base option, it's not the only transmission available; there's also a 4-speed automatic. Regardless of transmission choice, the little Micra is a great deal of fun to buzz around town in, and it actually motors well when asked to!
It's clear that the 2015 Nissan Micra is an easy-to-live with, practical and very affordable option for those in the market for a second vehicle or even those looking to purchase their first. And it seem there's a very good chance that the 2016 version will be exactly the same. The Nissan Micra is possibly one of the best suited cars for city life, and the fact that it can be had as bare (S model) or as loaded with amenities as possible (Bluetooth and backup camera, for example) makes it versatile, as well.
Stop by Gord Scott Nissan today to speak to our experts about the upcoming 2016 Nissan Micra, and book a test drive in the current model to get you all ramped up for the new model.